Today, thanks to the development of technologies, actors who are about to begin their acting career in Los Angeles, have the chance to find job opportunities online. Casting websites make that process accessible to actors, thus making it simple to respond to Los Angeles casting calls. It is no more necessary to print out your resume and a headshot made by a Los Angeles headshot photographer. Opening your computer right now, you have the chance to find casting opportunities that are appropriate and free. If you are a starting actor and if you are looking for a place to make your first step in, this is the right place for you to be. Below you can find the best free casting websites of 2019 with detailed descriptions.
1. Backstage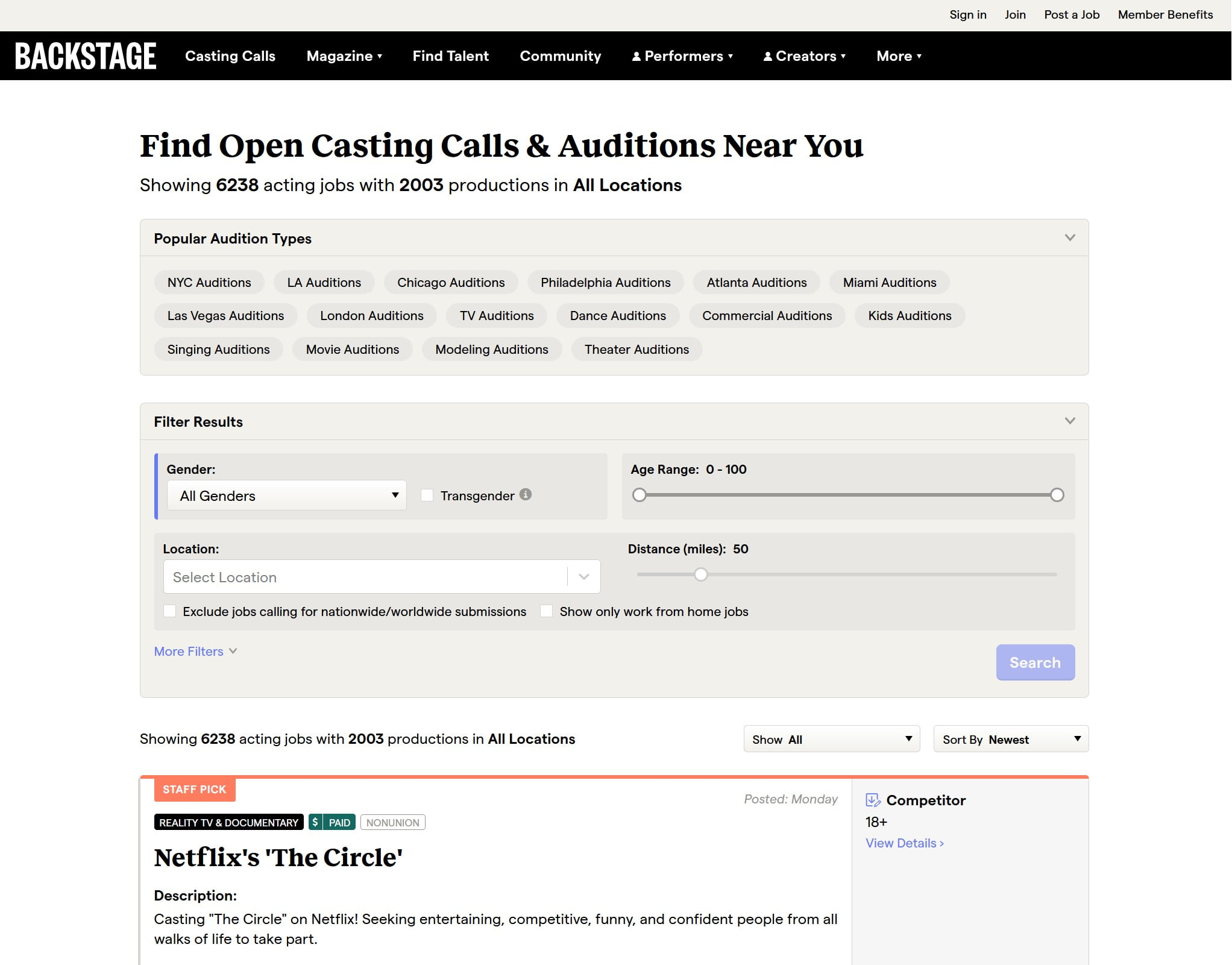 Backstage is one of the dominant acting websites. It describes itself as a platform that educates and informs emerging actors about the requirements of their career. Backstage essentially leads actors to become talented performers and achieving their goals. It is a a webpage that is looking for your talent and does everything possible to make it possible for you to reach your purposes. 
You can see Los Angeles casting call opportunities just by entering the casting calls section of Backstage. You will find out more than 10000 acting job opportunities there. It provides the following information for each job opportunity:
Description 
Backstage provides a detailed description of each casting opportunity it offers. You can select the "read more" button of each of the description sections, and you will find all the information you need about that job. It enables you to find the company name, the production details, and the suggested roles. You will also be able to apply in this section just by clicking the Apply button. 
Dates And Locations
You will find the location of the production and what time you need to be there right below the Description section. You will also see any dates with important meetings or rehearsals that you need to attend. If a special interview date is listed, don't forget to take your resume and headshot. You may need these two at any moment. 
What are you auditioning for?
A commercial? A theater performance? Or, a film? What kind of film is it? You will see a small icon in the upper part of the job offer. In case you are interested in the particular form of an acting career, you may consider this tool helpful. 
Additional Information
Backstage also notifies with a green icon whether the job is paid or not. Further, the casting call provides some information about additional requirements, such as the desired age or gender for a specific role. 
Filters
The ability to filter among the thousands of job opportunities is the best thing about this website. It enables you to filter the characteristics of the casting call you wish to have. You may choose a special role type, production, and location. You can also filter your gender and approximate age in order not to waste time. 
Backstage serves as a casting streaming tool where you can find a job among numerous Los Angeles casting calls. You can get quality opportunities here as it truly cares about your career and is willing to work with emerging talents.
2. Casting Frontier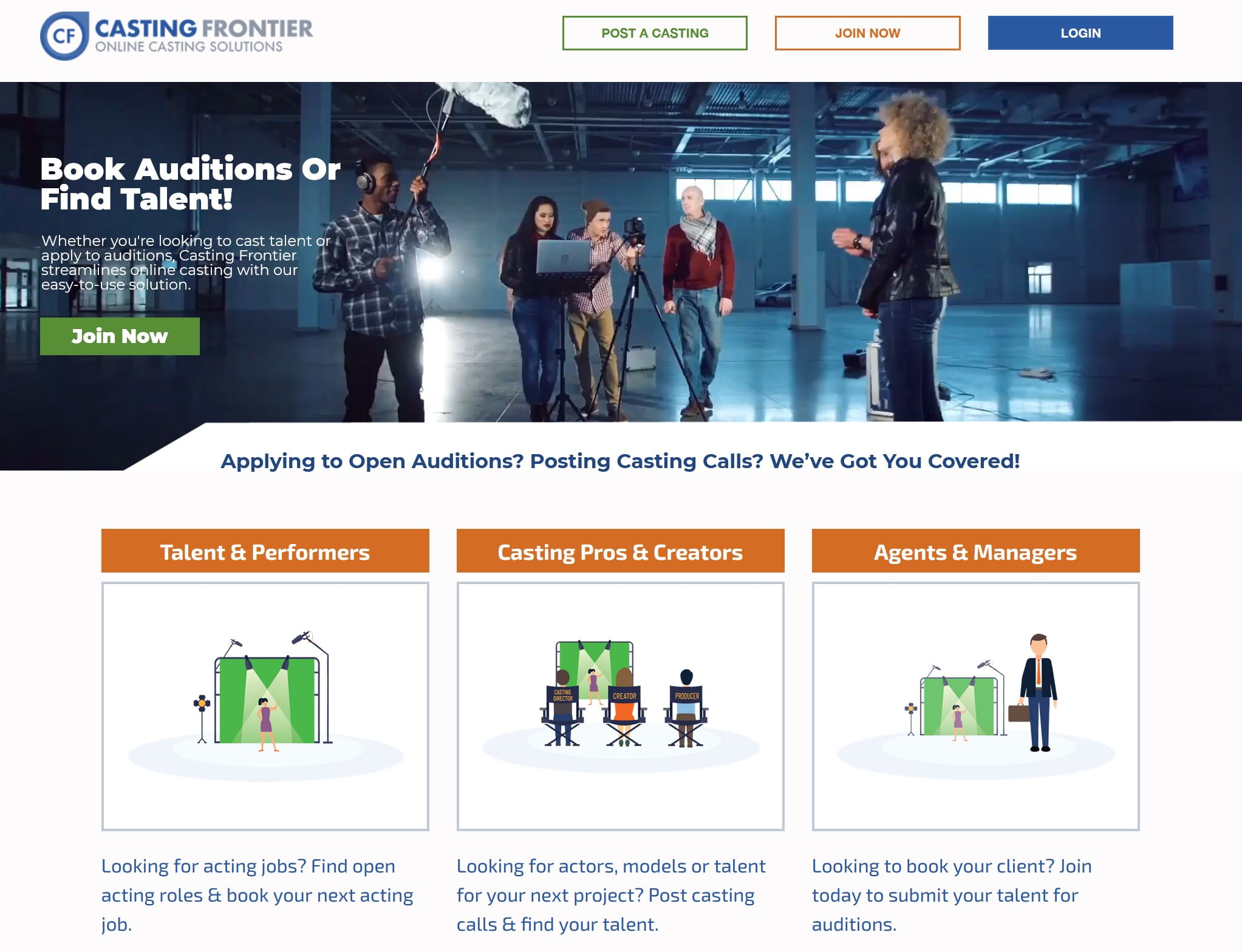 Casting Frontier is one of the first innovators to implement an online casting opportunity. Launched in 2006, it made it possible to do the step-by-step audition online. Now there is no more need for struggling through the stress of entering the audition room. This platform allows casting directors to post their announcements on the website. Consequently, it becomes easier for emerging actors to do the preparatory work, including writing a resume and getting a headshot at a Los Angeles headshot photographer's studio as the auditioning process itself is less stressful.  
Casting Frontier, as one of the best casting websites, suggests the following 4 steps that lead to reaching your goals. 
Create Your Profile
Here you can showcase your professional resume, headshot, and demo reel.
Find Acting Roles You Want
You can search among dozens of casting calls and filter with characteristics that are applicable to you.
Apply To Auditions With A Click
The only thing you have to do for applying to a casting call is just one click. 
Audition From Anywhere
You can be located anywhere in the world, and the casting directors can contact you remotely. 
On this website, with numerous casting calls in Los Angeles and other locations, you have three membership options. Signing in to the Casting Frontier, your free account will include the following:
An online resume 
1 headshot by a professional headshot photographer 
Casting call submissions with limited role possibilities 
The free subscription already provides decent opportunities. However, if you want more professional headshots and other options, you can pay for premium or premium plus membership level. 
Thanks to casting frontier, it becomes easier both for the actors and for the casting directors to organize the auditions. Take advantage of the fact that it is free and start your phenomenal acting career in Hollywood.  
3. Casting Networks Incorporated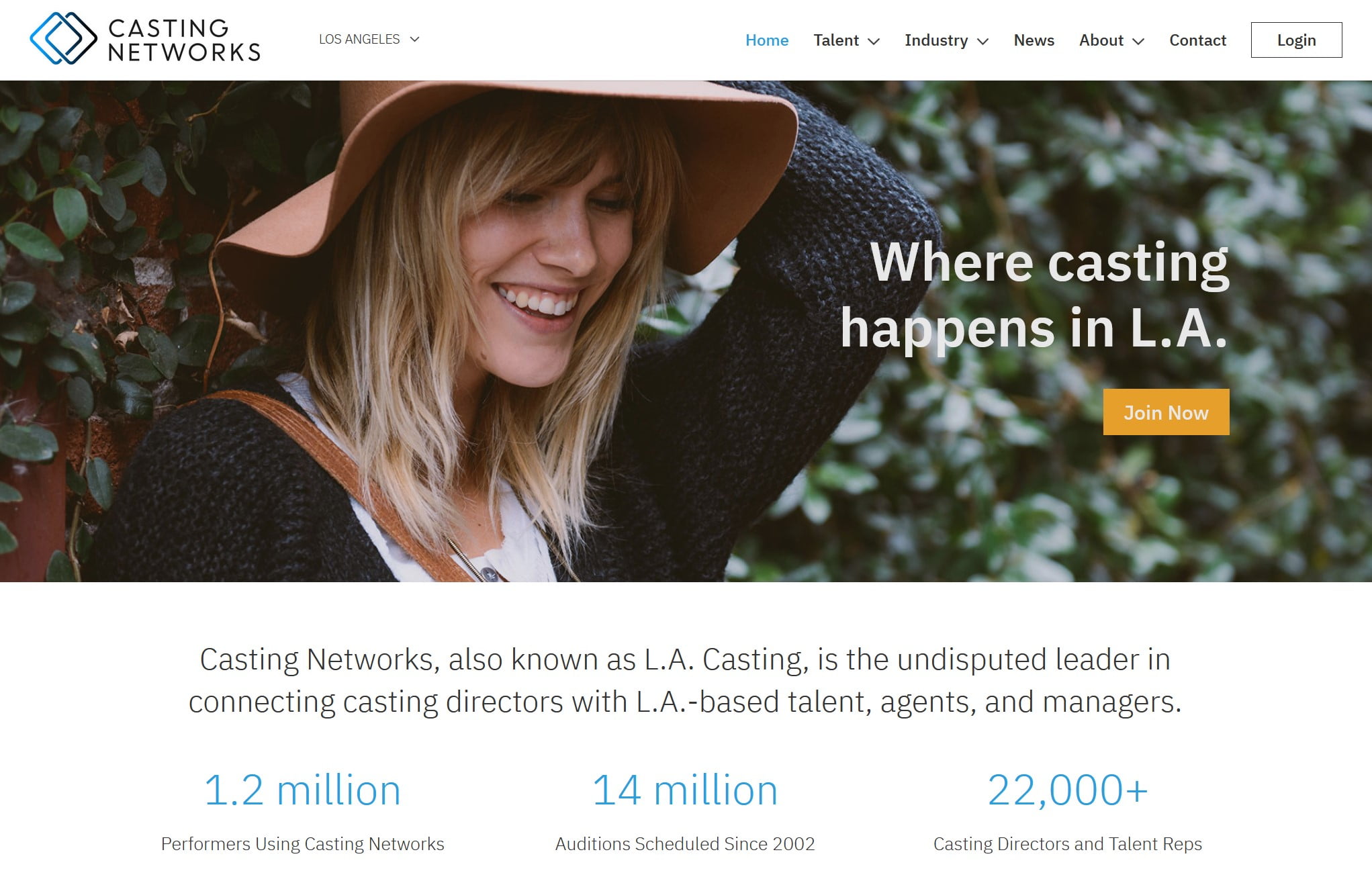 Casting Networks Incorporated is also one of the best free casting websites that is a pioneer in this field. It was one of the first organizations that understood that the so-called talent scouting is not making the casting process productive. That is why this is a great place to respond to Los Angeles casting calls and audition online. 
Casting Network Incorporated scheduled 14 million auditions since its creation in 2002. As you can see, Casting Network Inc. is one of the best casting websites right now, so you can think about finding your dream job here. 
There is a free account opportunity on this website, but it requires you to have agency representation. The free membership includes the following:
A free professional headshot 
A profile that casting directors can search and find
An online resume with a personalized Uniform Resource Locator
Free access to new projects 
Access to people such as directors, Los Angeles headshot photographers and acting coaches
Casting Network Inc. is a professional website and one of the best ones where you can find quality casting calls. Therefore, even if you do not belong to any agency, you might think about paying $25 and becoming a member here. 
4. Playbill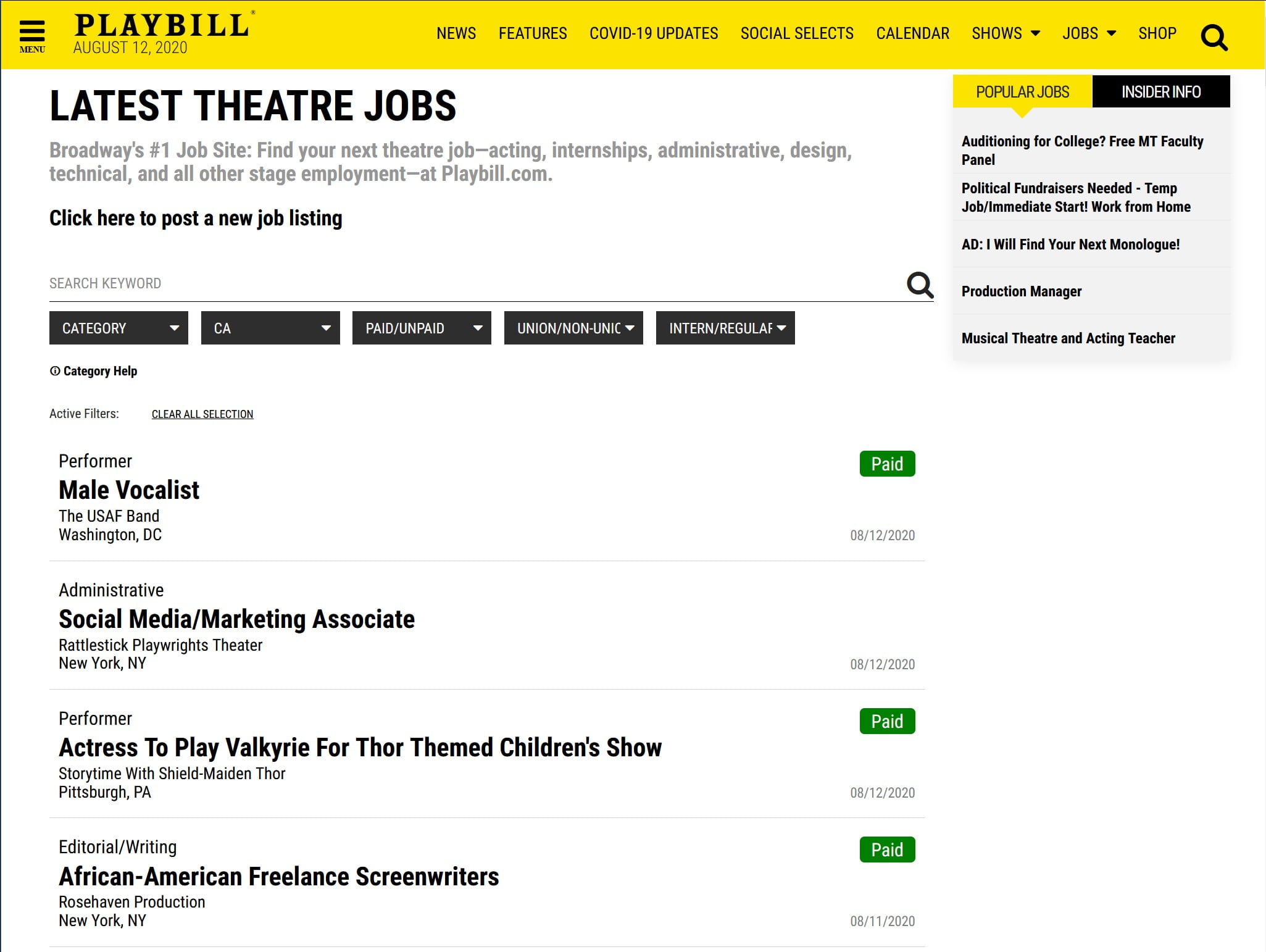 If you live in the United States, you have probably heard about playbill. You should be familiar with playbill as a magazine, and you may associate it with the famous yellow pamphlets. Some people find them cool, while others think they are annoying. But did you know that Playbill does something more than just producing those yellow pamphlets? Yes, it does, and it is actually what you desperately need if you are an actor.
The company has a casting website where you can find numerous casting calls in Los Angeles and other cities as well. On the website of Playbill, you can find new jobs and auditions every day. This website serves as a free resource for you to look for opportunities to start your career or to earn some money as an actor. 
Unfortunately, Playbill does not have a submission portal; however, all the posts are legitimate and of high quality here. They provide all the necessary contact information so that you do not have difficulties. It also provides information on what you should have for your application, including the number of headshots, the details about your demo reel, etc. Make sure to know how to prepare an excellent demo reel and where to get a headshot by a professional LA headshot photographer. 
5. Actors Access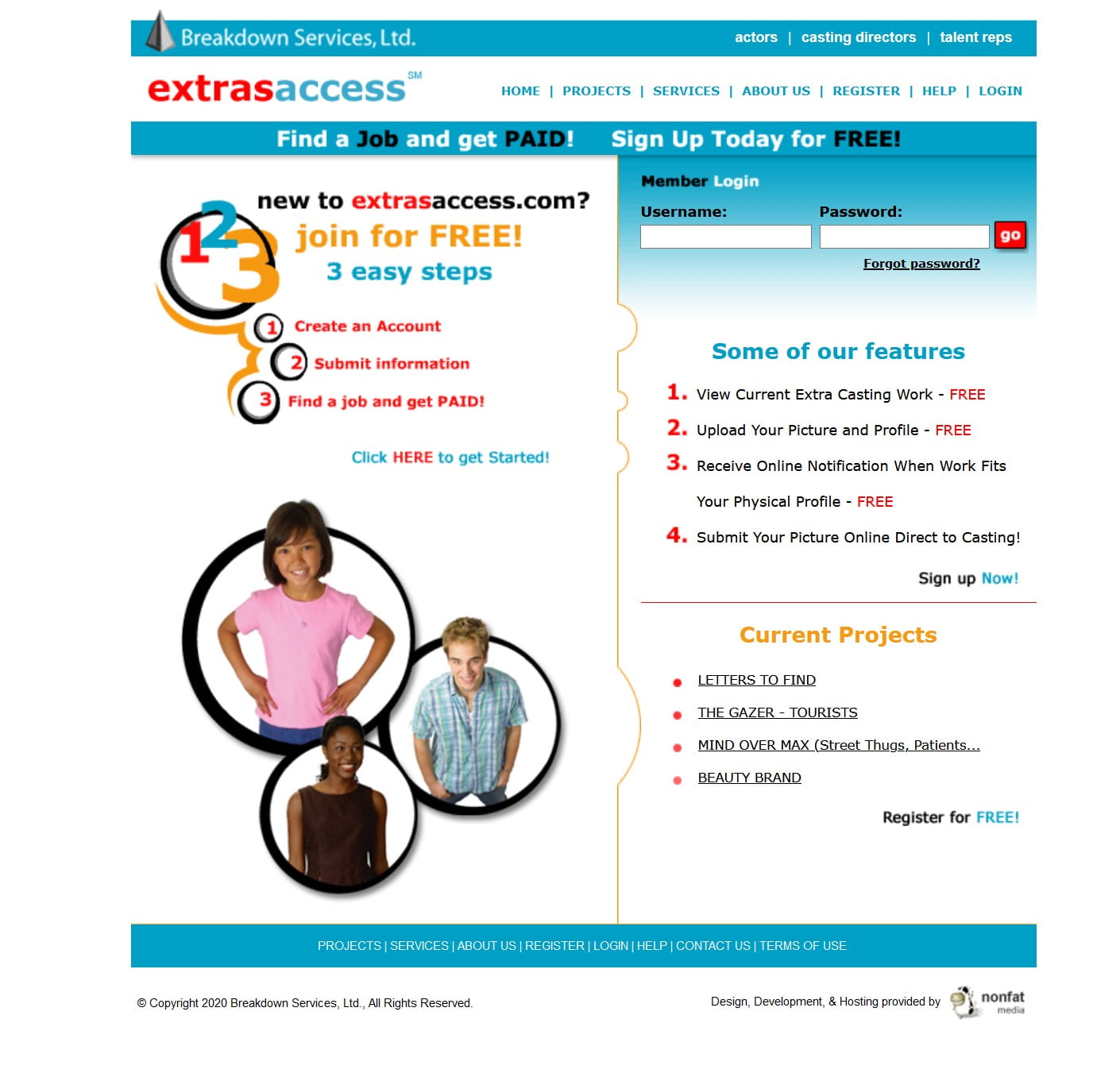 Actor Access is a fantastic platform today not only for emerging talented actors but also for casting professionals. Breakdown Services run this website, which talks about nothing else but the professionalism of the website. Being one of the primary distributors in the acting industry, Breakdown Incorporation makes Actors Access one of the best casting websites in 2019. 
Actors Access is a website where you can find high-quality gigs even if you don't have an agent. As the website has a free membership opportunity, you may want to know what it includes:
All-day access to breakdowns in the website 
A resume, a size card and 2 headshots to upload for free 
A 7-second-long video where you introduce yourself 
As in any casting website, Actors Access also has maintenance fees. Therefore, the additional elements that you wish to have in your profile need payment. However, the free membership provides opportunities that are surely enough for responding to Los Angeles casting calls. 
There is one thing that makes Actors Access special among the other best casting websites. It has a tool called Showfax, which allows you to search for future projects in your city. For instance, if you live in Los Angeles, just choose your city here and find the best casting calls that have the potential to put a start for your acting career in Hollywood. 
Actors Access provides every single service that may come to an actor's as well as a casting director's mind. It is a perfect place for the actors to make the first step towards their acting career in Hollywood and. It is also a great place for the casting directors to find the most talented actors for their projects. 
6. Mandy.com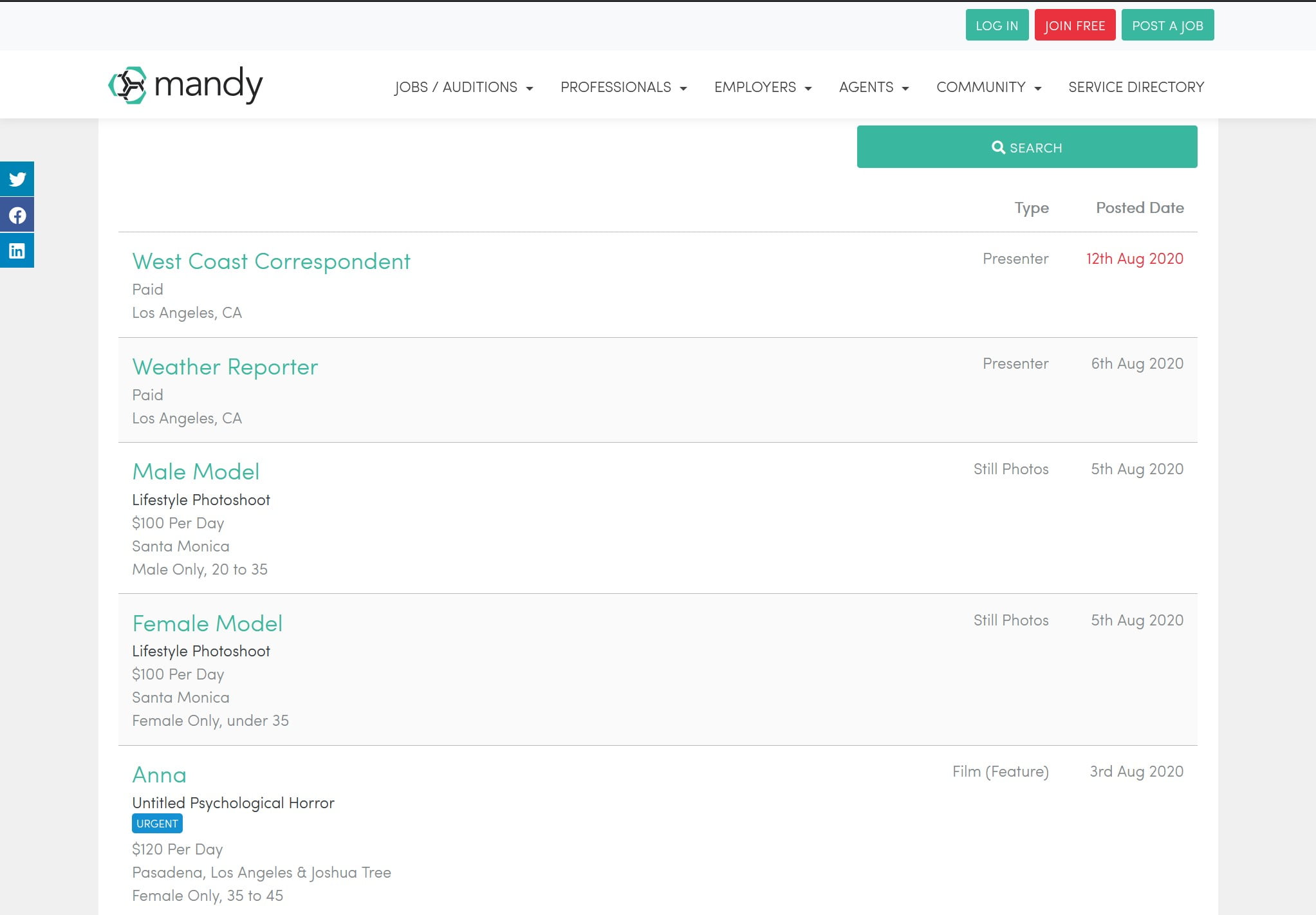 Among the free casting websites that you had a chance to read here, Mandy.com is the one with the highest recognition. There are certain characteristics that define Mandy.com as a quality website. 
Many opportunities 
Mandy.com provides free access to auditions in different spheres of acting, including theatre roles, films, and TV productions, voiceovers, and child acting. What is more, in case you are interested in, there are also casting opportunities for musicians, dancers, and singers at Mandy.com.
Simplicity 
Mandy.com is very simple. Right after entering the website, you make your free registration and start looking for casting calls. 
Rich 
Mandy.com has over 6500 casting calls each month. You can have access to various job opportunities with their contact information and choose the best one for your acting career. 
In addition to this, Mandy Network is in the leading position among the best free casting websites thanks to the services it provides. Here they are:
Instant Job Alerts
Registering at Mandy.com, you will receive notifications about new jobs and auditions via email. This may seem natural. However, the ones that you receive will match your location and correspond to your skillset. Sounds great, right? Mandy.com facilitates your research.  
Professional Profile
You will have the opportunity at Mandy.com to create a personal profile, where you can upload your headshots made by your Los Angeles headshot photographer. You will create a platform where casting agencies will be able to find out some information about you as well. 
Network and Connections
In a community with over 2.7 million participants, you will be able to find new contacts and new opportunities to achieve new goals in your acting career.
Create a Website
The Mandy Network creates the opportunity to turn the profile you made into a real website just with one click. 
As you may already guess, Mandy.com is a fantastic place to consider for starting an acting career in Hollywood. It is also a great place for agents to find new jobs for their clients. The Mandy Network is a professional platform and is in a leading position among the best casting websites. 
So, let's imagine that you, as a starting actor, have just finished writing your resume and have just got a fantastic actor's headshot from a Los Angeles headshot photographer. It is now time to look for Los Angeles casting calls for your career. As you already know, it is not necessary to go to a casting agency physically. The new age with digital technologies allows you to look for opportunities and build your career with the use of your electronic devices. You can get your job online thanks to the best casting websites that you had a chance to read about above.
Articles to check out: YouTube for Actors in Los Angeles. Get more information on useful information that actors can get from YouTube. Another article you should read is about capturing personality in portrait photography.
What to read next: How To Get Professional Realtor Headshots in 2022
Learn more about headshot pricing in Los Angeles.
Click here to book a headshot session in Downtown Los Angeles.
You can view more Professional Headshots | Los Angeles Headshot Photographer on our home page. 
Read More