If you are an actor or an emerging actor and you want to build a great acting career in Los Angeles, this is a blog you should absolutely stick to and read. Besides reading books on acting and taking acting classes you should know all the YouTube channels on acting. Being an actor is a profession with 2 dimensions: it is fun, yet it is very complicated. At any step of their career path, actors have new things to learn and new skills to obtain. Los Angeles acting YouTube channels make the process of learning much easier and much more enjoyable. Youtubers also provide tips on top Los Angeles headshot photographers, acting schools, casting agencies from their own experience.
Subscribing to YouTube channels, you will have a chance to gain academic knowledge of your field, look at the job of famous actors and see tutorials such as how to prepare for an audition or how to find a professional Los Angeles headshot photographer. The videos of most Los Angeles YouTubers will also provide you with plenty of enjoyment. Therefore, you may find it essential to know about the best YouTube channels connected to acting and follow them. Below, you can read about the top 10 acting blogs.
1. Act On This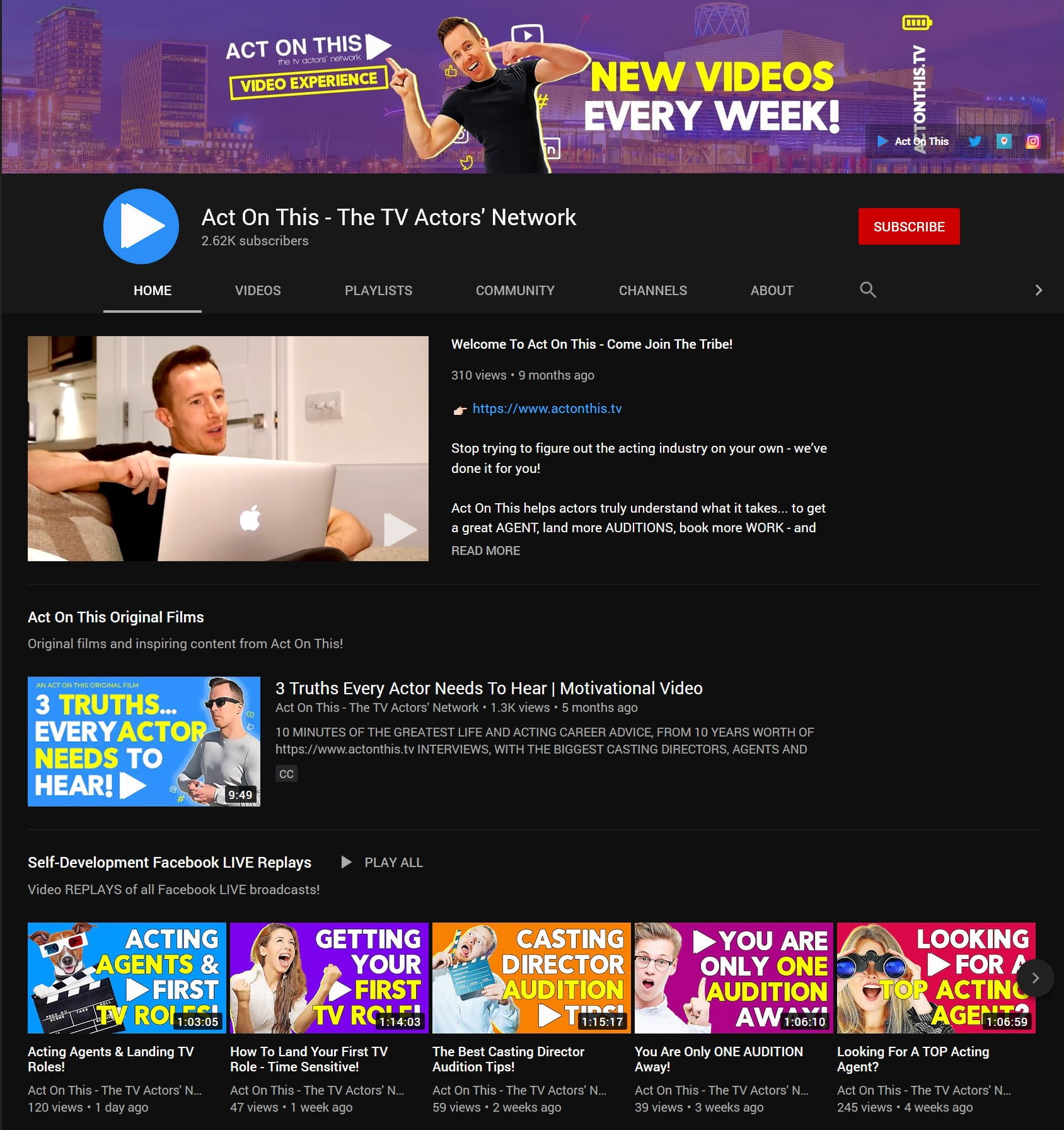 Firstly, you might want to visit the website of Act On This to understand to see whether you are interested in it or not. The primary mission of this channel is to help you figure out the acting industry you have just stepped in. Besides, following this Los Angeles acting youtube channel, you will not need to learn about the Los Angeles acting sector on your own, but with helpful video suggestions.
Act On This has already done the research for you. They know how to get an agent or a manager, how to book auditions, where to find a Los Angeles headshot photographer, how to dress for a headshot, and how to prepare a resume. Regardless of which point of your acting career you are subscribing to this channel will lead you to reach a higher level. 
Act On This offers knowledge from the best casting directors and agents. 
How It Works
This channel does some unique job of putting you on the right path. In case you just don't know what to do with your degree or with your talent, or both, Act On This will tell you that.
What can you find here 
In Act On This Los Angeles Acting youtube channel, you can find weekly and live broadcasts. These videos will help you level up in your acting career. Here you can learn a lot from famous casting directors, actors, and successful agents.
Who is it for?
Actors who:
… are new in the industry and are unsure about where to start
… have just graduated from acting schools
… already have some experience and what to reach higher levels
… want to start communicating with casting directors
… wish to become members of a specific community
… simply want to be at the top of the industry and aware of the news. 
What kind of videos?
The contents of the videos and their lengths vary in this channel. There are about 1-hour-long videos that give you detailed information on, for instance, guiding about actor's social media requirements or what to do for more auditions. 
Other videos include live Q&A sessions with famous people of the acting industry or famous actors' personal previews. There are also numerous motivational videos that you may enjoy just watching. 
Act On This is a channel that can contribute to the development of your acting career in Los Angeles. Made by an exceptional Los Angeles YouTuber, Act On This provides compelling content along with an enjoyable process of watching. 
2. The Hollywood Reporter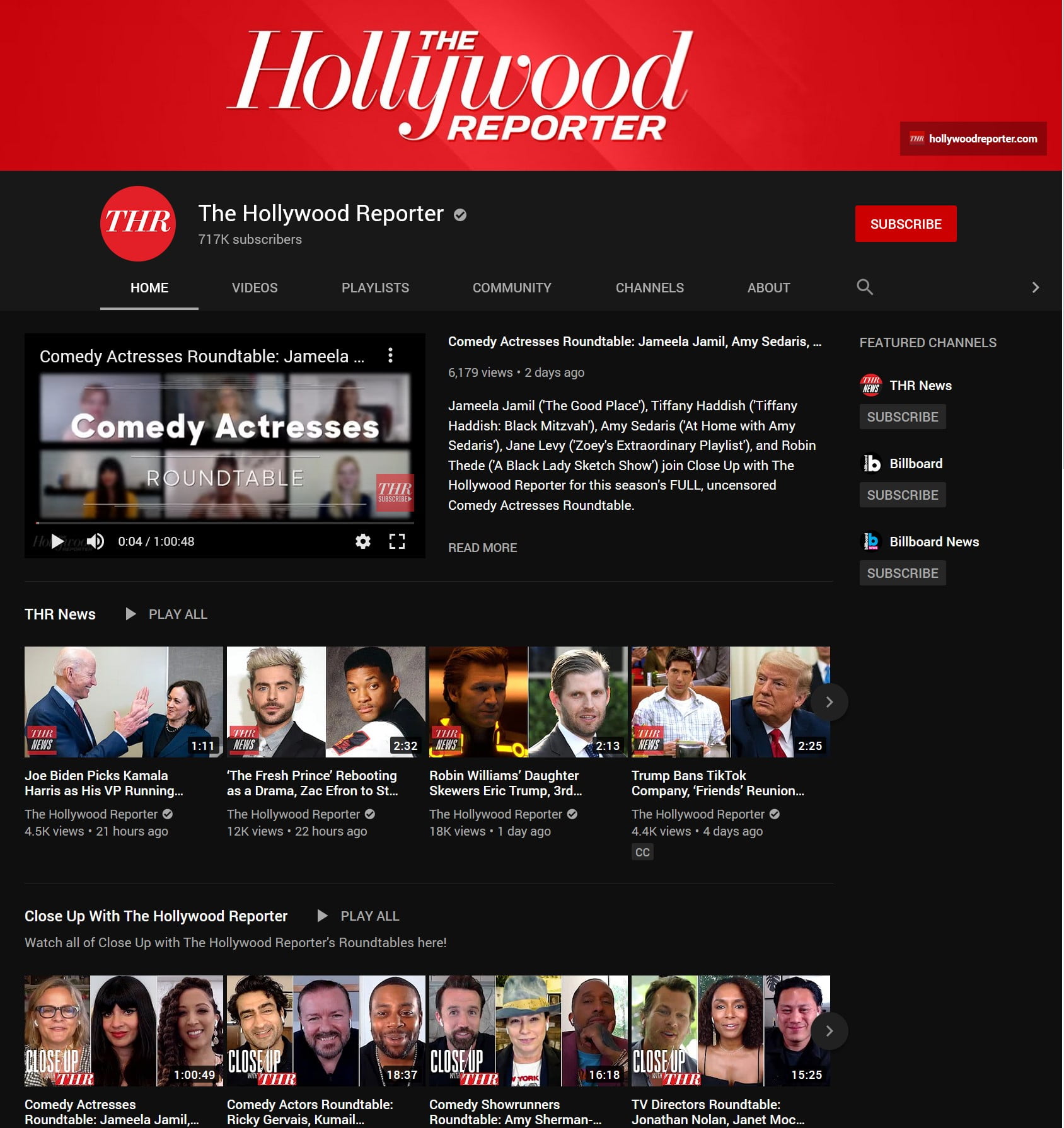 This Los Angeles acting youtube channel should not be something unfamiliar, as you have most probably heard about its website. However, if you are an actor, following merely the site of Hollywood Reporter is not enough. The information you will get from the videos of this youtube channel is incomparable. 
Why Hollywood Reporter?
This youtube channel is unique in the content it provides: Here is what you can find in one of the best Los Angeles youtube channels:
Brilliant roundtable interviews with Hollywood's elite
This is a fantastic method for you as an actor to develop. You learn the discussion of real actors about their actual roles. These discussions include both analysis and evaluation. You will also have the chance to learn about the experience of actors such as Tom Hanks, Gary Oldman, John Boyega, and James Franco at a roundtable discussion. 
Access to famous people from behind the scenes
In these videos, famous actors and actresses talk about the behind the scenes of the movies they have recently made. This is a good chance for you as an actor to understand how to prepare for your future prominent roles. You will learn about acting routines such as arriving at the set or getting photos from Los Angeles headshot photographers. 
Very current and newly updated information in the acting industry
And of course, Hollywood Reporter never misses the premiers of new movies. Following this Los Angeles Acting youtube channel, you will be informed about all the news in the cinema industry and famous actors' lives. 
As you may have understood, Hollywood Reporter is not a channel where Los Angeles YouTubers educate you. This is a channel that is required to subscribe to being informed about the latest updates in the acting industry, the part of which you are going to become soon. 
3. Variety – Actors on Actors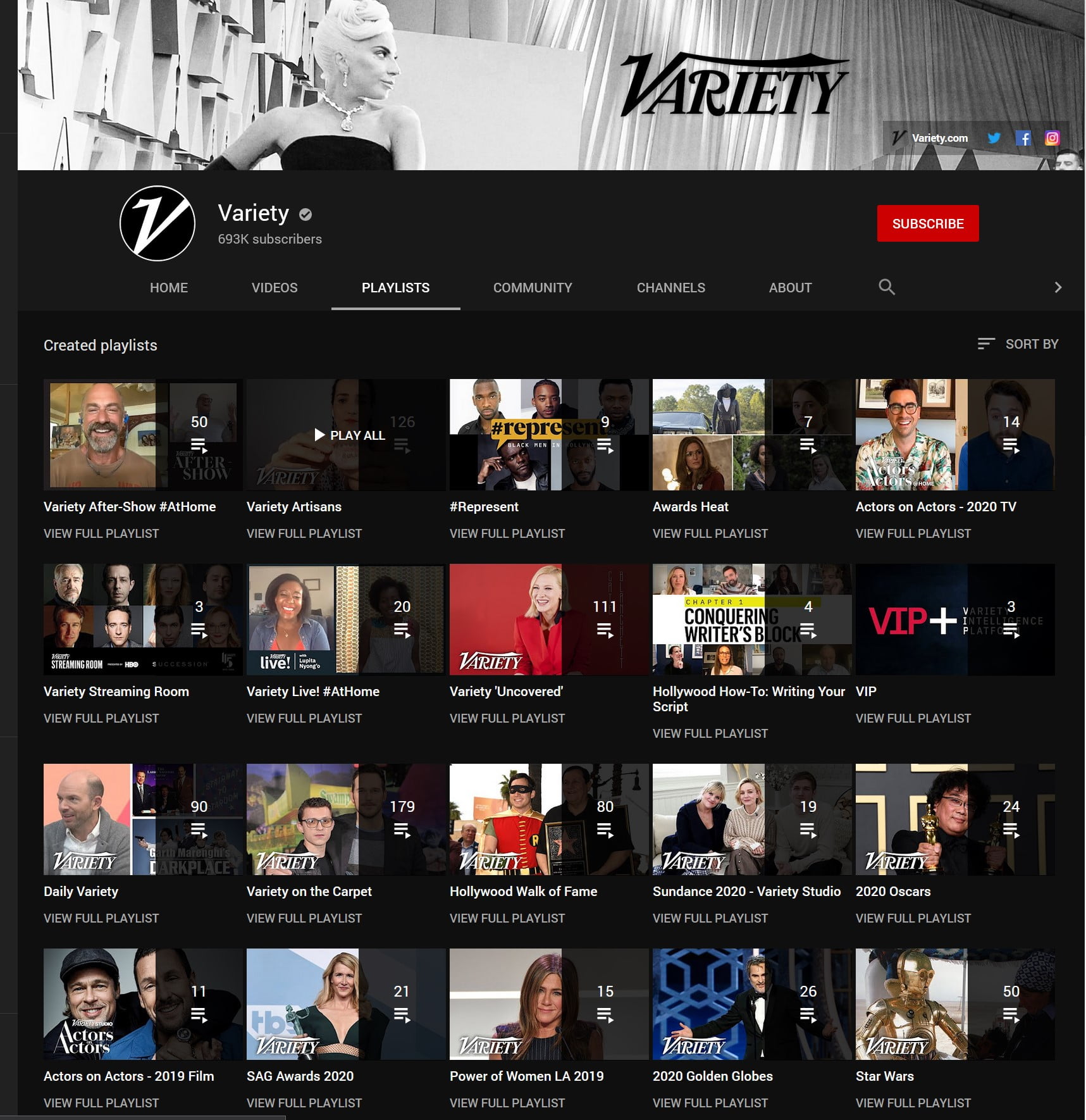 This is one of the most influential Los Angeles acting youtube channels that you should follow.
This is also a channel that differs from the ones individual Los Angeles YouTubers have. Actors on Actors are not created to educate you, but you can self-educate here. 
What videos can I find here?
Two famous Hollywood actors or actresses have a conversation about their career and the characters they have played. This is a tete a tete professional discussion where the actor discusses, analyzes, and evaluates their performances. 
The video you should probably start from is the conversation between Margot Robbie and Jake Gyllenhaal. The two actors had similar experiences of playing characters of real-life people who have gone through difficult life and who are still alive. Moreover, the actors discuss how they planned their acting and the research they have conducted before playing the roles. For you, as an actor, this should be incredibly interesting and useful. You will hear a conversation about the real experience of actors' professional research.   
Why subscribe to Actors on Actors?
Watching the videos where famous actors who have won the highest awards in the acting industry is the best contribution youtube can make to your acting career. You see how professionals imply the theoretical knowledge you have into real characters in real movies and create masterpieces out of them. And this is not a joke! Take it seriously. Characters such as Satine from Moulin Rouge or Nina in Black Swan are absolute masterpieces of the genre. Actors on Actors gives you the chance to listen to the discussion of these characters by the actors who played them themselves. Therefore, go and hear how Nicole Kidman and Natalie Portman discuss their roles with other famous actors. 
For you, as an actor, this channel will be especially interesting as you will listen to the conversations of famous actors from the professional point of view. You can try to incorporate their experience into your work, thus developing your acting career. 
This is a fantastic chance for you to learn from worldwide known celebrities. Don't miss this chance and subscribe to Actors on Actors. 
4. The Heller Approach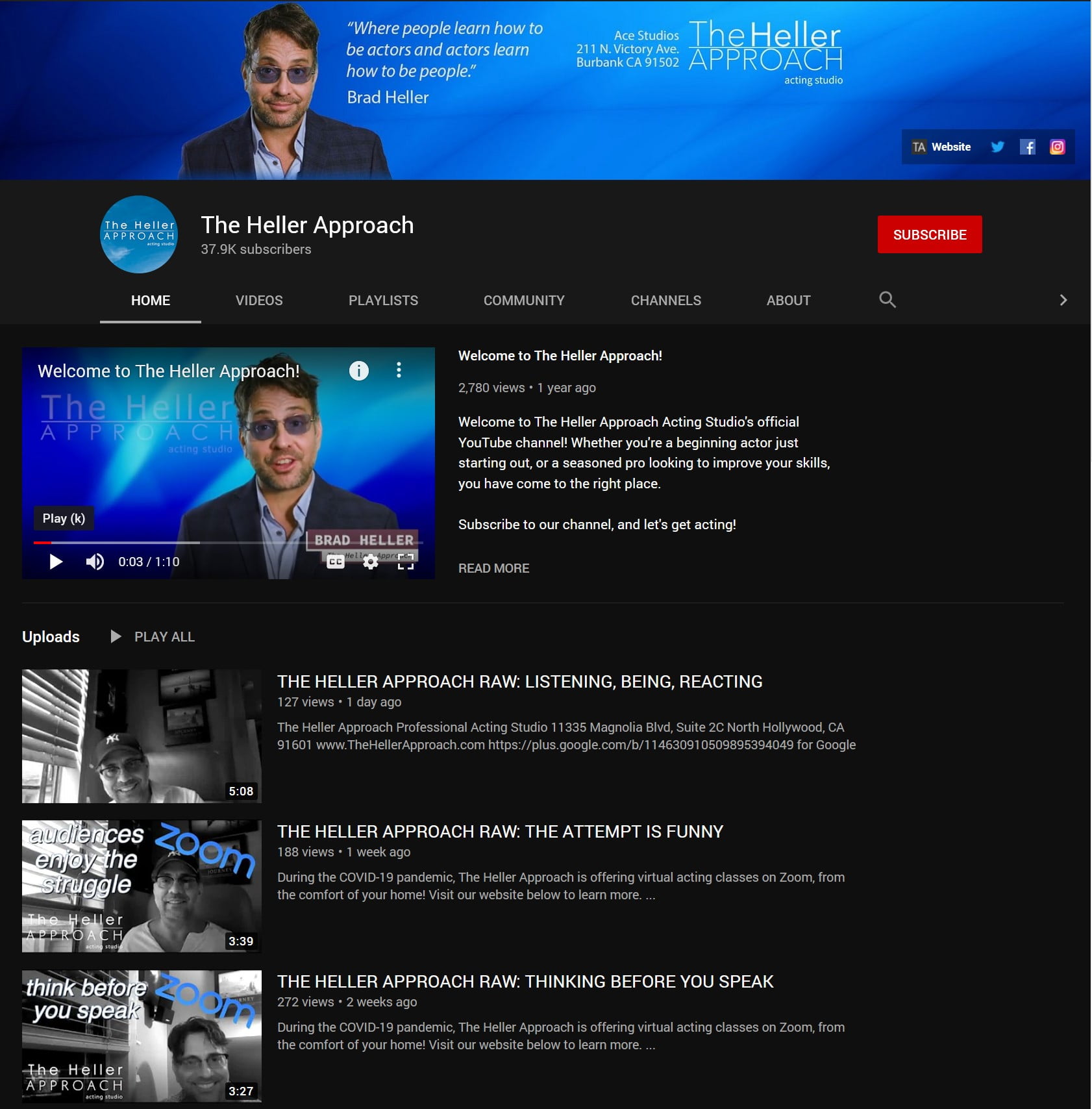 Another Los Angeles Acting youtube channel that you should follow if you want to develop your acting career in Los Angeles. This channel is different than the ones discussed above, which makes it an absolute requirement for you to subscribe. 
What is Heller Approach?
The Heller Approach is actually not a famous academic approach. It is an acting technique that a University of California, Los Angeles (UCLA) former professor Brad Heller invented. Brad Heller is an actor and director himself, and he took the path of teaching this art in one of the best Los Angeles Acting youtube channels. 
What to find on the Channel?
On The Heller Approach Los Angeles acting youtube channel, you will find acting lessons based on the Heller Approach. Brad Heller himself speaks in the videos. By the way, he also gives acting classes in his acting studio in Los Angele, which you can visit. The studio is located at 211 Victory Avenue, Burbank. The videos of this Los Angeles YouTuber include the following:
How to:
find the conflict
connect to the audience
find your style
choose your emotion
make your scene natural
internalize your feelings
effectively memorize your lines
figure your character out
start actor's preparation
Why subscribe?
As an actor and director, Mr. Heller teaches his own technique of acting, which you may find truly interesting to learn about. Obtaining the traditional knowledge of Stanislavski's system and other methods, it is worth spending some time to increase your professional academic arsenal.
"Where people learn how to be actors and actors learn how to be people."

Mr. Heller
Therefore, be curious and take the opportunity to learn something new about your career.
5. Jimmy Kimmel, Jimmy Fallon, Ellen Degeneres, Stephen Colbert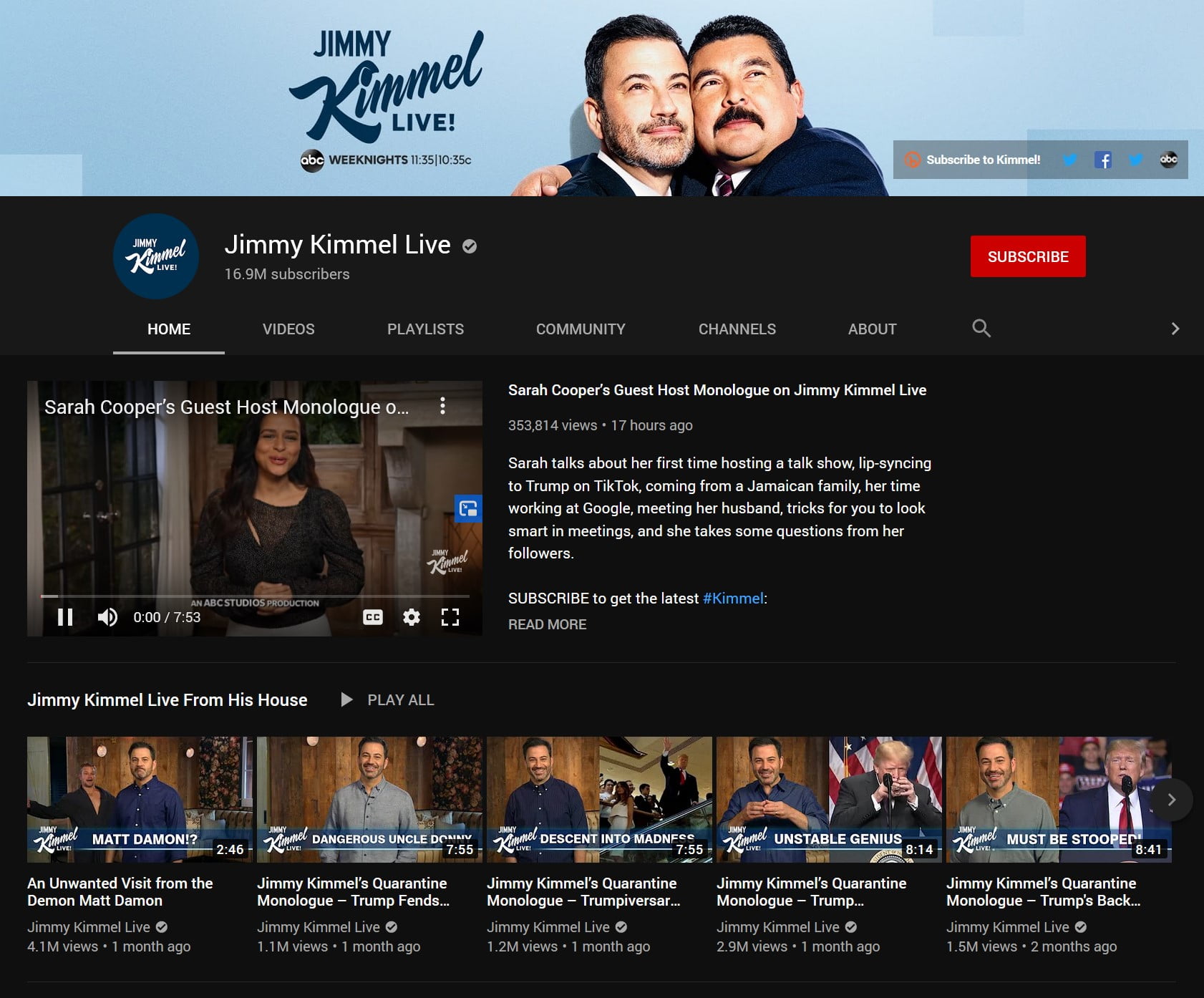 Alright! What a discussion about youtube channels can there even exist without mentioning these people? The best Tv Talk Show hosts in Los Angeles, USA, and worldwide. Hosts who have regular updates and immense influence over all the industries, including acting. These are hosts that have all the celebrities on their shows and the most engaging discussions you can listen to. There is no doubt that you are subscribed to all of them. Wait. Aren't you? Then, shame on you! Stop reading this article for a moment. I will wait – Los Angeles headshot photographers are used to waiting. Did you subscribe? Alright, let's continue. And the question we are going to discuss is:
Why follow these channels?
You may say, Jimmy Kimmel, Jimmy Fallon, Ellen Degeneres, and Stephen Colbert are not Los Angeles YouTubers, and their channels are not even Los Angeles Acting youtube channels. Why is it so necessary to subscribe for acting purposes? Well, there exists an apparent reason. As mentioned, these people have all the celebrities on their shows. Those celebrities also include actors, actresses, and directors. First, you will have the chance to learn about their experiences. Very often, the hosts invite actors to talk about their latest movies, and sometimes they seriously present their expertise.
 However, even during the funny parts of the talks and numerous jokes, you have plenty of things to learn. You can concentrate on how actors respond to questions improv. How they get out of situations and how they think of jokes at the moment. Most importantly, you can pay attention to how they act naturally and learn from them. You will look at the actors you know very well outside their characters, which will be an excellent way for you to develop as well. 
Acting is your profession, which obliges you to be informed about the acting industry very well. If you want to reach significant goals for your acting career in Los Angeles, you should be actively following blogs and youtube channels connected to acting. It is no more enough to read about how to succeed in auditions, create demo reels or get great headshots by Los Angeles headshot photographers. You should be more active and knowledgeable about the field you work in. Following Los Angeles YouTubers who post videos about acting is a good idea. This way, you will combine your theoretical knowledge with entertainment and general awareness about the industry. You will also have the chance to get familiar with the experience of famous actors, directors, and agents. Therefore, subscribe to the Los Angeles acting youtube channel that you read about here. 
Read More