Attention all aspiring models and actors! As a headshot photographer in Los Angeles, I know how hard it is to find the perfect location for headshots. It may look like every corner of Los Angeles is a good location. But, sometimes the slightest thing in the background may distract from your face in your headshots. I have gathered here my favorite list of places to shoot headshots in Los Angeles. This is actually the second part of my list of locations, you can check out more sites here.
1. The Griffith Observatory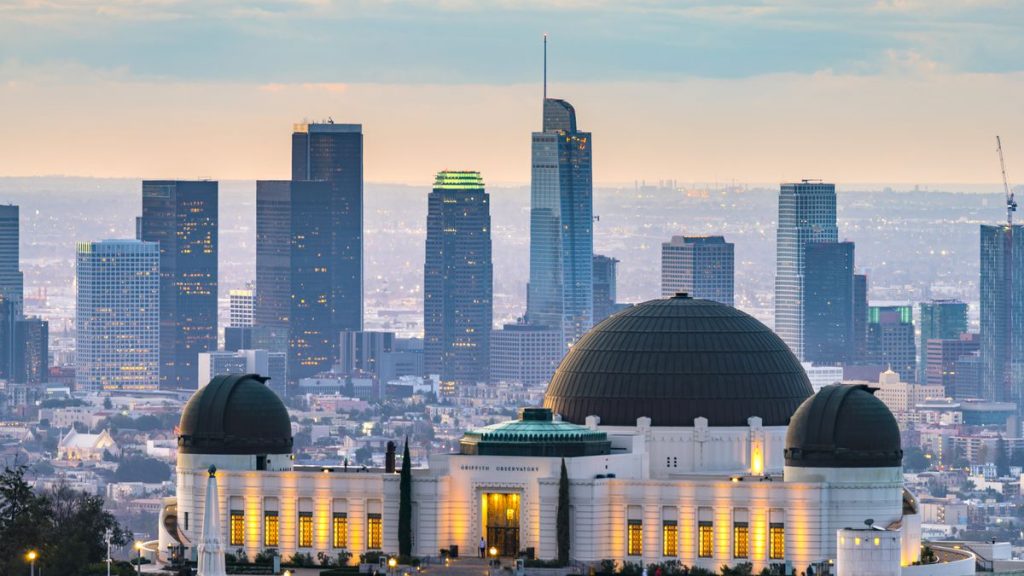 The Griffith Observatory is a facility in Los Angeles that sits on the slope of Mount Hollywood. It overlooks all of Los Angeles, including Downtown Los Angeles, Hollywood, and even the pacific ocean. Weekends are usually crowded, so consider going sometime during the week! This is one of the more trendy and beloved spots for access to pictures with the Hollywood sign! Parking is also a difficulty. So you should either take an UBER up to the top or parking outside the park and hiking up. 
2. The Bradbury Building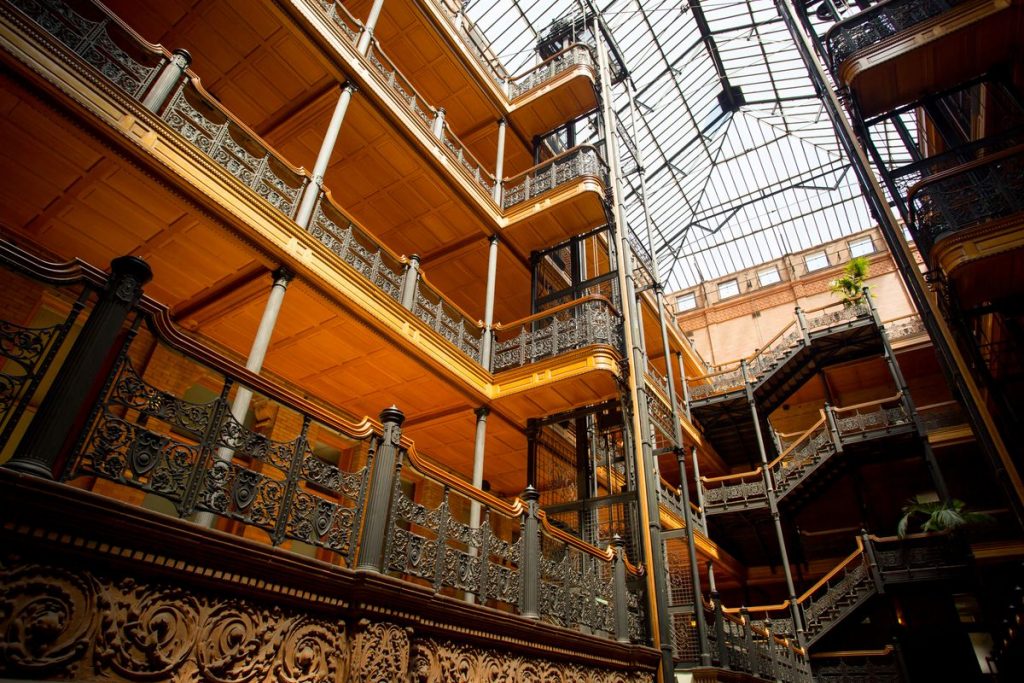 Aside from being a hotspot for cafes and shopping malls, downtown Los Angeles also has many beautiful historic must-sees. The Bradbury Building is the place to go if you are looking for a more vintage style in your photos. The main feature is the elegant elevator shaft and circling stairs. Both the stairs and the elevator catch rays of light that stream down from the skylights. This is a great spot for history and drama! This location may be perfect for some but may cost others their casting. So, make sure to know what you are looking for when choosing a site according to your desired role. 
3. Echo Park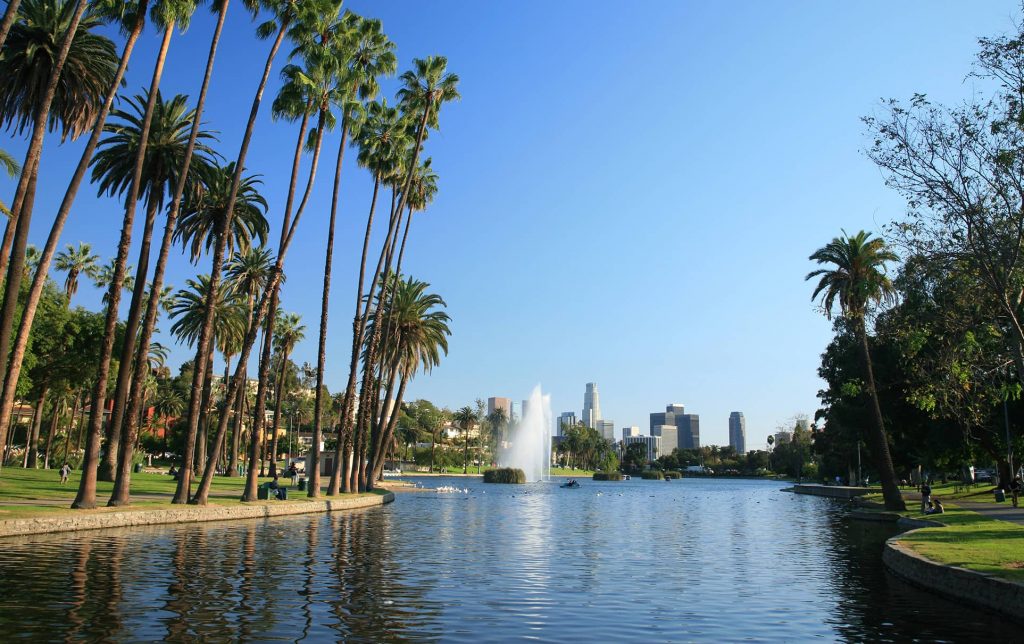 If you enjoy the outdoors and would like to somehow integrate it into your headshots without it being too much, Echo Park is the place to go for you. Echo Park is a neighborhood with colorful street murals, trendy bars, and food trucks along Sunset Boulevard, along with cute coffee shops and boutiques. This park also has a beautiful skyline, especially during sunrise or sunset. 
4. Union Station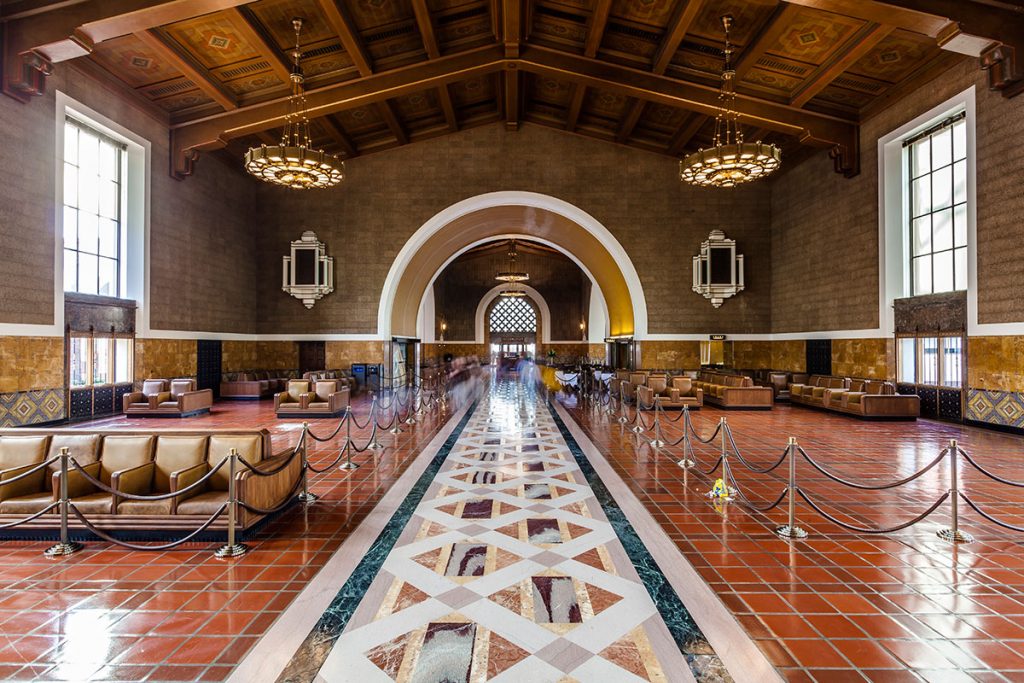 Another one of Los Angeles' most iconic and historical spots for great headshots. This station has even been dubbed "the last of the greatest railway stations". Union Station is the heartbeat of the city, combining the hustle and bustle of travelers with luxurious decoration from times long gone. The main area for photography is the lobby with iconic chairs, high ceilings, and intricate finishes. This location gives off a very vintage and rustic vibe. So, before choosing this spot, be sure to evaluate what your brand is.
If you want to be cast in modern movies, this may not be the location for you. Your headshots must always reflect who you are, and what type of roles you are aiming for. As a headshot photographer in Los Angeles and have been in the industry for quite some time, so I will help you with this task once you book your session. 
5. The Korean Bell of Friendship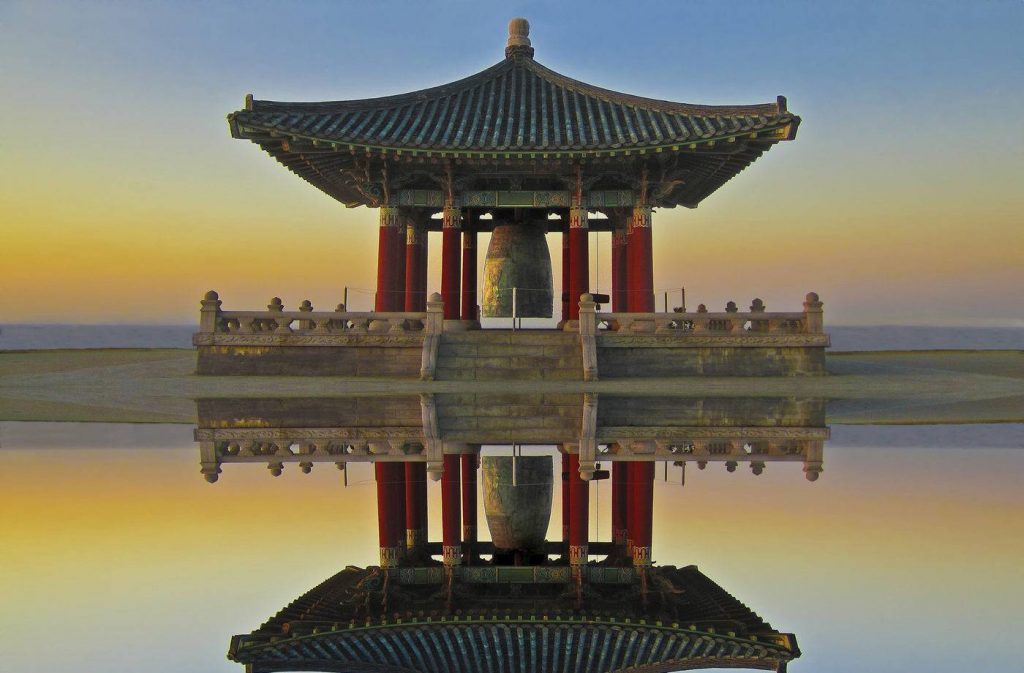 The Korean Bell of Friendship is a massive bronze bell located in a stone pavilion in Angel's Gate Park. This is in the San Pedro neighborhood of Los Angeles. This is a stunning yet very specific location. Once again, your brand will decide if this place is right for you or not. As a headshot photographer in Los Angeles, I will be able to tell you if we should shoot here or not once you tell me what roles you imagine yourself doing. 
6. Venice Beach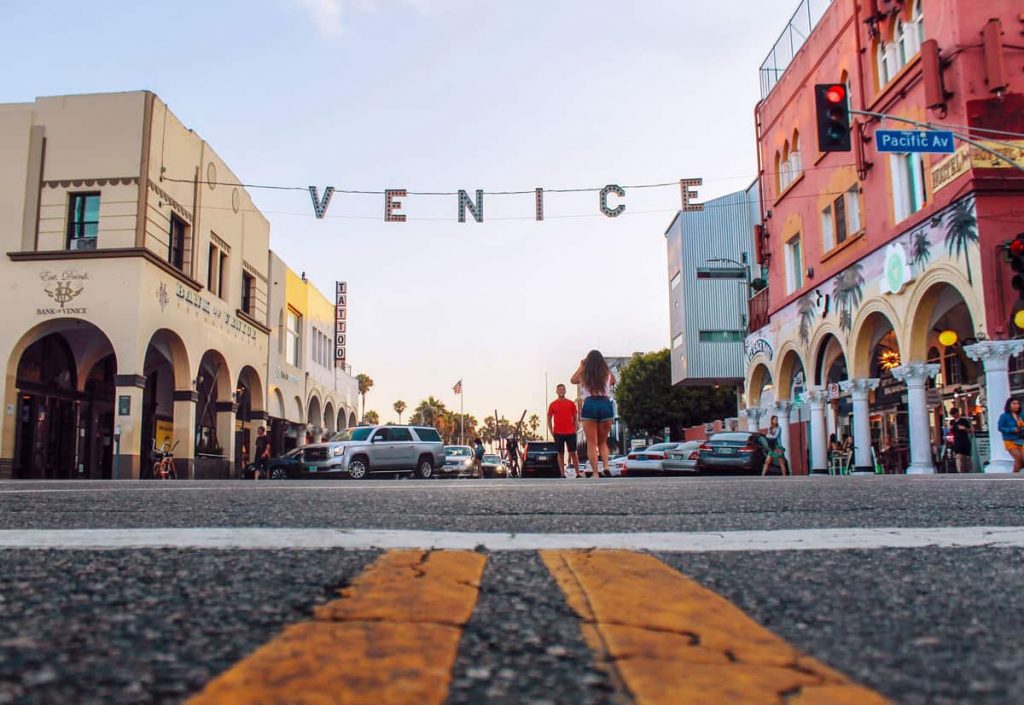 Venice beach is one of my most favorite locations for headshot sessions in Los Angeles because of its variety. It has a bohemian feeling to it and is always buzzing with soul and adventure. Venice beach is a famous beach town with many cafes, restaurants, and food trucks. It is also full of cool shops, street performers, and beautiful murals. There is also a skate park nearby and the beach. A picturesque collection of canals is surrounded by modernist homes, which make for a great background. There is also a skate park nearby full of graffiti, which will portray a mix of natural and urban in your headshots.
The Venice Canals are also at this location, with a beautiful set of small bridges and palm trees for a relaxed and natural background. We can pick our location here together, and find what fits you best. There are many options, and it will take some time to find the perfect spot. This location is also beautiful during sunset. Venice Beach is a very touristy spot, so try to book your session during a weekday so it will be less crowded.
7. Grand Central Market

The grand central market is basically a huge food court with a somewhat vintage and urban style. It is a very iconic and well-known spot, and many people come here for food, so you must be ready as it will take some time to get the perfect shot. It is full of food vendors and even a neon sign mural, which makes for a great backdrop. As a headshot photographer in Los Angeles, I will be able to move around this busy location with ease and find us the perfect background for your headshots. 
8. Downtown Los Angeles Rooftops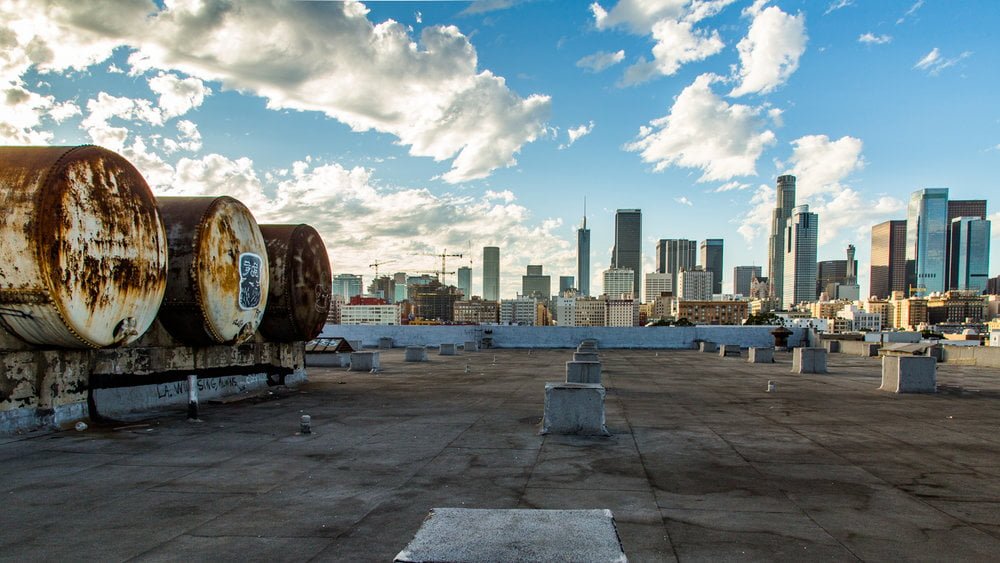 Any local you will talk to will tell you that part of Los Angeles's life is all about rooftops. Rooftops offer a great view of the city and are beautiful at night with a background full of lights. They are also never crowded, so you will not have to worry about having people walk by in the background. I know some people are shy when it comes to photoshoots, so rooftops offer a mostly private area with excellent backdrops. You can already imagine how great sunsets and sunrises on these rooftops are. Some of these rooftops are open to the public, but some are not.
As a long-time headshot photographer in Los Angeles, I know a few locals who will happily give us access to their rooftops for your headshot session. There are also no worries about permits, parking, and closing hours when you are shooting on a private rooftop. The only concern is the weather, so check before you book and pick the day and your outfit accordingly. 
9. "Urban Lights" at LACMA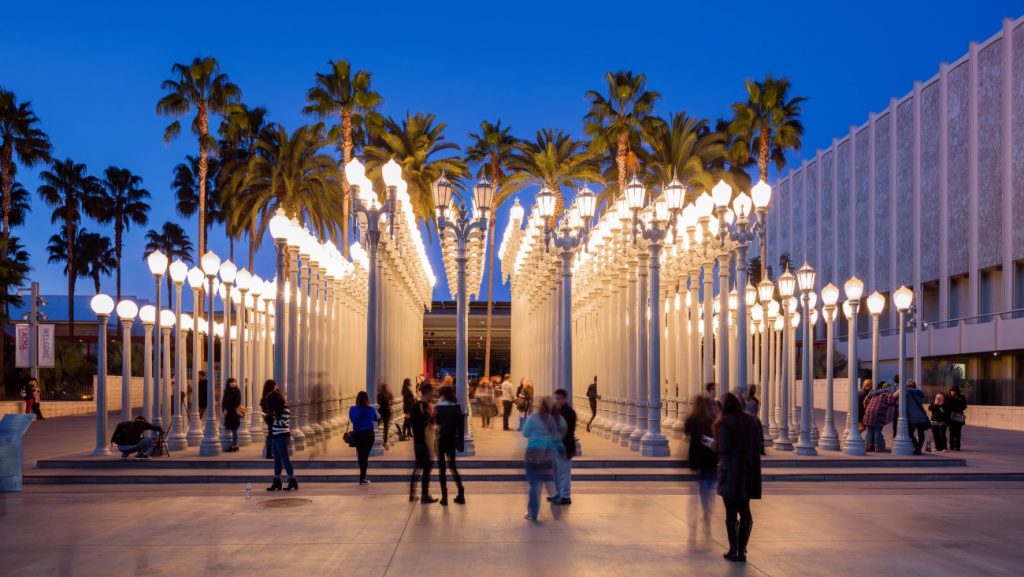 Urban Light is a large-scale art piece/sculpture on the Wilshire Boulevard entrance to the Los Angeles County Museum of Art. This installation consists of restored street lamps from the 1900s. This is a spot you're sure to have seen all over Instagram. Even though it might seem obvious or overused to you, it is still a great location if you know how to use it. It is essential that your headshot photographer knows how to get the most out of a location and not make it cliche.
Being a headshot photographer in Los Angeles for quite some time now, I have seen how people waste a perfect background with a wrong angle or lighting setup. Depending on the type of photo you would like to get, we can choose whether we want to try shooting at this location during the daytime or nighttime. Shooting at different times of the days will give your headshots totally different moods. During the night, these lights are turned on, and during the day, they provide a great architectural background. 
10. Santee Alley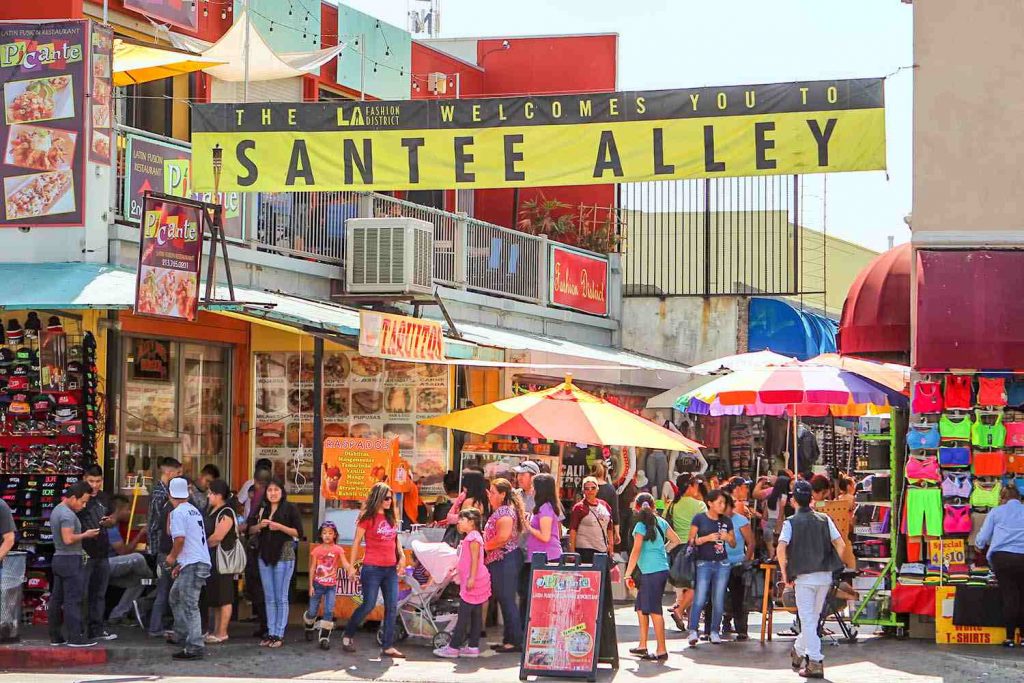 Santee Alley is located in the Los Angeles Fashion district and is not for those who get tired quickly. This is a location that offers many unique photo opportunities if you are willing to test your creativity. Santee Alley is a narrow street for pedestrians filled with shops on both sides. It is usually full of people, which adds to the atmosphere but can also make your photo background distracting. Since there is no one iconic spot for photos, we must look around before we choose someplace for your headshots.
Being a headshot photographer in Los Angeles, I have been to Santee Alley many times for professional and personal reasons, so I know just how to make this location work for you. I will recommend the perfect time to go, so it is full of life yet not too crowded with people. Then, after discovering photo ops in Santee Alley, we can explore the rest of the District of Fashion that is full of colorful stores, food trucks, and street art. You must keep in mind that with popular local locations such as this one, finding the perfect non-distracting background and lighting might take some extra time, so clear your day before booking!
11. Micheltorena Stairs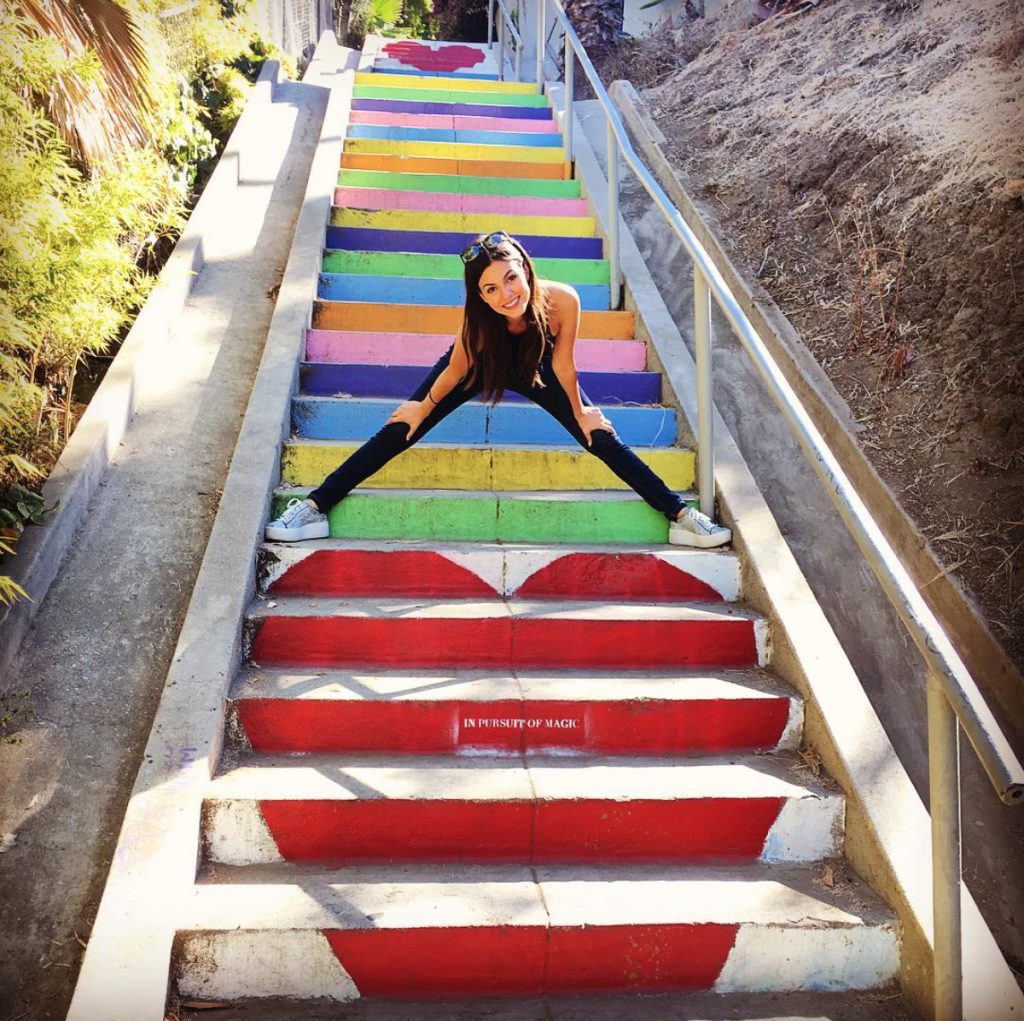 The Micheltorena stairs are the most Instagrammed stairs in the world and are a must-see for all those looking for cute pictures. The colorful stairs and big heart offer a very vibrant and full-of-life backdrop for headshots. If you're looking for a sweet girl-next-door role or if you are looking for a good location for kids' headshots, then this is the spot for you. Once you book a headshot session with me, we will take the time to talk over what role you're looking for and choose if the spot you selected is right for you or not.
Since this is a very colorful and bright background, you must be portrayed so that you stand out but do not clash with the colors. Both of my headshot session packages include wardrobe consultation, so a professional will tell you what to wear according to your brand and chosen background. These packages also include unlimited looks, so if you cannot decide what to wear, just bring all the options with you, and we will try them out to see which goes best with the background. 
12. The Huntington Library Botanical Gardens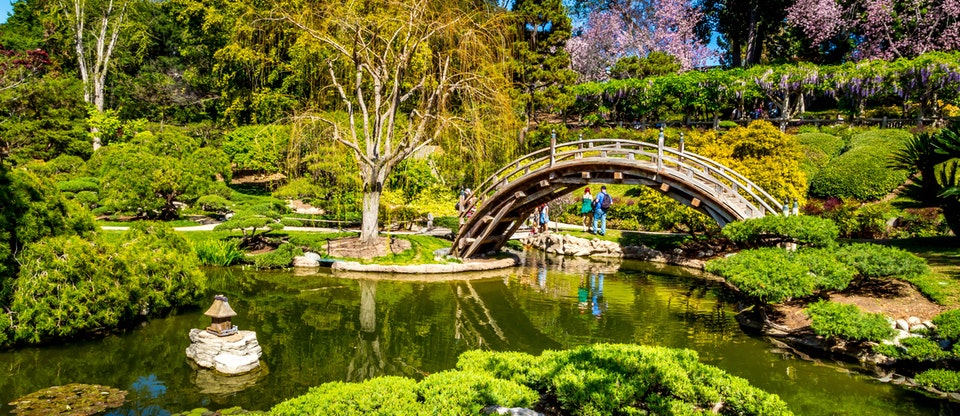 The Huntington is mainly known for the Library and Art Museum. But, what most people do not know is that it houses a vast botanical garden full of very well-cared-for plants and natural photo backgrounds. The space is very large, so you are sure to find precisely the background you are looking for. There are green spaces and spaces full of all types of flowers if that is what you are searching for as a backdrop for your headshots. A natural and flowery background isn't the ideal choice for everyone, so evaluate your brand carefully before you select this option. Parking is also free at this location, so that's one less thing to worry about. The ground space here is very large, so there will be no crowds of people in the background of your photos. 
As a Conclusion…
Before choosing a headshot location in Los Angeles, always remember to keep your brand in mind. Your brand is what should get across to the casting directors when they look at your headshots. It should include parts of your personality and what roles you're searching for. If you're looking to be cast in a cowboy western-style movie, then headshots from Echo Park or rooftops locations are surely not going to get you that role. I am a headshot photographer in Los Angeles and have been in this industry for some time, know what details in headshots get the attention of casting directors and what loses them.
Once you select the type of roles you are looking to get cast for, we will go through a few location options together and select the ones most suited to you. Both headshot session packages I offer also include free wardrobe consultation, to help you match well with the background we choose and the type of energy you're looking for in a headshot. I know it's hard to choose an outfit for a shoot, especially when you don't know how it will go with the background. I suggest you bring them all with you to the shoot! Both packages include unlimited looks, so you can try all types of outfits to find the one you love. With all these perks and this list of locations, you are sure to get the headshots of your dreams!
Read More