Valentine's day is near, and couples are already counting the days until February 14th. This is the perfect day to show your loved ones how special they are. Each day of the year must be a celebration of love. But we all know that February 14th has a unique energy, and we always want to make that day memorable. Most of the couples plan their surprise ahead of time, and others just wait until the last day. But remember, it is essential to be creative so that your significant other always remembers that day. It is the perfect time to make memories and capture them forever in order to look at them after many years. If you think that Valentine's Day photoshoot rates in Los Angeles are high, then I can assure you that there are many ways to take affordable headshots. Doing a photoshoot on Valentine's day is not only super romantic but also a great way to spend quality time together. As I am a headshot photographer in Los Angeles, I have selected a couple of unique and romantic ideas for Valentine's day photoshoot.
One of the most important advantages of outdoor photoshoots is the opportunity to choose from dozens of locations. It gives room for creativity, which is a must for Valentine's day photoshoot because I'm sure you don't want to have ordinary pictures. You can go to the park, to a rooftop, to the seaside, or just walk in the street and have street style photos. This is a perfect way to take affordable headshots, which at the same time, will be beautiful and original. As photoshoot pricing may seem high at the photo studios in Los Angeles, this option is a good substitute. Here are some ways to make outdoor photoshoot even more appealing. 
Capture the Golden Hour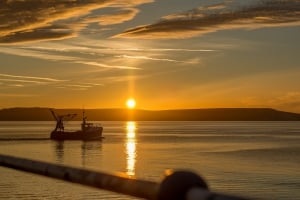 The famous "Golden Hour" which does magic in the world of photography. Every headshot photographer in Los Angeles tries to capture beautiful pictures during the golden hour. It doesn't matter where you have chosen to take pictures- the golden hour will add warmth and romance to it. But to make your photos even more breathtaking, I highly recommend choosing a beautiful place which has a stunning view. For example, a rooftop, where the whole city can be visible. Or if you are able to go to the seaside and catch the golden hour there, then I assure you that your pictures will be magnificent. You just have to catch that magical hour and be fast, since it may last only a couple of minutes. Although it's duration highly depends on the season and location. So make sure to know every detail about the golden hour and enjoy it. Here you can find a guide on how to take a perfect picture during golden hour. 
Amusement Park Photoshoot
There's always a fascinating atmosphere at the amusement parks. If you think that photo studios in Los Angeles are not for you, then this option may be one of your preferences. This place will allow you to have a stylish photoshoot and have a lot of fun. Since there are a lot of different lights in those parks, the pictures will be even more beautiful. In the evening that lighting creates a special mood, which will be transferred through the camera. Walk around the park, play games, buy cotton candy, and ride the attractions. All of this will create honest emotions, and the pictures will be beautiful and creative. Enjoy your day, and the hours spent in the park. You'll see how alive are all the photos, and that both of you had a great time. Try to get pleasure from every moment. 
Photoshoot on the Rooftop
As I have already mentioned before, catching the golden hour while being on the roof is a blessing. But with the help of imagination, we can think of many ways to make a rooftop photoshoot even more exciting. For example, in the evening when the city lights are on, you can capture a lot of beautiful pictures with the view of the city. You can also decorate the rooftop the way you want and create a unique ambiance. Use different props, and don't be afraid to make your imagination a reality. It is possible to create your photo studio in Los Angeles wherever you want. And besides being very romantic, this is also another way to take affordable headshots during Valentine's day photoshoot.
Indoor Photoshoots
If you are not a fan of outdoor activities, then don't be sad because indoor photoshoots can be as creative and interesting as outdoor ones. Especially right now, when it is winter, and the weather in many places may not let you do any kind of outdoor photoshoot. So, in this situation, indoor photoshoot ideas save the situation. Photo studios in Los Angeles are one of the best, and photographers always make sure that besides having beautiful pictures, you also enjoy the process. In addition to this, in many photo studios in Los Angeles you can take affordable headshots. But If photoshoot rates in Los Angeles seem high, remember that even at home, it is possible to make a small studio. This may take time, but a few easy steps will help you to create your dream studio. Step-by-step, you'll see how an ordinary room transforms into a real photo studio in Los Angeles. It is possible to generate many ideas, the only thing that you need is space and creativity.
Stay at Home and Have Fun
You can think of so many creative ways of arranging home photoshoots. You don't even need to set up or decorate something. The most beautiful pictures are the ones that express honest emotions. You don't always have to pose or stare at the camera. Valentine's day photoshoot at home is an excellent idea because you can be yourself in the most comfortable way, and get affordable headshots. Wear matching and comfy sweatpants with your partner, and just stay at home. Order a pizza, lay on the couch, watch TV, have a pillow fight, wear funny socks, and ask a photographer to catch all the emotions. This is an effortless way of arranging a photoshoot, but I am sure for many couples, this option would be more enjoyable than any other. 
Return to Your First Date
There are some days, dates, and locations which stay in mind forever for couples. One of the most important memories is the first date, and where it happened. The place where you first went on a date is full of emotions because, for every couple, it is one of the most responsible days. So, imagine how romantic it would be to recreate everything connected to your first date and have Valentine's day photoshoot at that place. You can order the same dish that you have ordered that day, and even wear the same clothes (if you still have them). This will not only be an opportunity to take affordable headshots but also to have dinner and have fun in one of your favorite locations. For every headshot photographer in Los Angeles, it is important to catch simple moments that contain thousands of emotions. 
Professional Photoshoot at the Photo Studio
Today, there are a lot of photo studios in Los Angeles, which are one of the best. Having a photoshoot in such kind of photo studio is a memorable experience because the quality and the level of professionalism is very high. You can be sure that the setting, lighting, and overall atmosphere will be organized most fabulously. Because of this, the photoshoot rates in Los Angeles are sometimes a little bit high. The photo studio and each headshot photographer in Los Angeles try to provide the best service. But I am sure if you search, you'll find places where you can get affordable headshots. At Stepanyan Photography, one of the most important parts is the quality and to make sure that clients enjoy the process. If you desire a high level of professionalism, then photoshoots in the photo studios in Los Angeles is the best option. Here you can get acquainted with the services and photoshoot pricing at Stepanyan Photography. 
Photoshoots with Props
People like to experiment with the props because it adds character to the pictures. It doesn't matter where you are; in the studio, in the park, at home or somewhere else, props help to make images even more enjoyable. Headshot photographers in Los Angeles may use a couple of different accessories during a photoshoot. And with each accessory, they may change the style and also the lighting of the picture. You don't need too much stuff, moreover, you don't need to spend too much money on buying props. I'm sure you can find things at home or borrow from someone and still be able to take affordable headshots. In the case of Valentine's day photoshoot, there are many romantic ideas, which will perfectly complement the photoshoot.
Powdery Paints
In order to have one of the brightest and colorful Valentine's day photoshoots, you should use special powdery paints. Play with those paints as much as you can. You can throw them in the air and let them pour on you. Use different colors and be quick, to capture the best shots. This type of photoshoots will not only be entertaining, but also, it will help to create one of a kind pictures. You can find paint like that in stores or order online. But be aware that this option will be good for an outdoor photoshoot. Because I'm sure you don't want to have a powdery paint all over your house or other location. Many headshot photographers in Los Angeles may use this type of paint during photoshoots in photo studios, but of course, it needs to be cleaned very carefully. 
Experiment with Looks
One of the best ways to create unique pictures is to try on different looks. Try on different outfits, or recreate styles from different movies or cartoons. For example, if you both love movies about superheroes, then try to be one of those characters for the photoshoot. You can also try to create different moods. For example, you may decide to form looks inspired by the 1920s, 30s, 40s, and so on. It would be exciting because those times had extraordinary hairstyles, makeup, etc. If you have vintage stuff at home, add them to the picture too, to create a unique atmosphere. Old suitcase, vintage typewriter, a book may be a great supplement. Most of the headshot photographers in Los Angeles enjoy playing with the looks, so suggest to them your ideas. It doesn't matter if you are going to have Valentine's day photoshoot at the photo studio in Los Angeles, at home or outdoors, this idea can be made into reality anywhere. 
Ride Together
Using any means of transportation as a prop during a photoshoot is not only creative but also adventurous. You can take a bike, and ride in a beautiful park or on a beautiful road. At the same time, a headshot photographer can capture fascinating pictures. It would be better to choose an uncrowded place so that you could enjoy your ride alone. You can also rent a vintage car and get creative with it. Fell yourself as a movie star for a day, and try to make different exciting pictures with your loved one. You can ride a car and go on a small journey, and at the same time, take photos in beautiful locations. To make it even more attractive, you can take additional props with you like lights, sparkles, etc. You will explore different places and, at the same time, have beautiful pictures captured by a headshot photographer.
It doesn't matter where you choose to have a photoshoot. Select any place, wear your favorite clothes, take with you a couple of props and just enjoy the process. As you saw there are many ways to avoid high photoshoot rates in Los Angeles, so even with a small budget, you can have a great photoshoot. When you are with your loved one, especially on Valentine's day, everything makes you happy. Having a photoshoot on this special day is a great way to save memories and have something to look at after many years. There are many times when we experience something beautiful with our favorite people, but there is no one to capture the moment. Well, now, with the help of these unique ideas, you can be sure that Valentine's day photoshoot will stick in the memory forever. 
What to read next: How To Get Professional Realtor Headshots in 2022
Learn more about headshot pricing in Los Angeles.
Click here to book a headshot session in Downtown Los Angeles.
You can view more Professional Headshots | Los Angeles Headshot Photographer on our home page.